💪🚲 – The strength of shared cargo-bikes
2020, the pandemic year, saw an impressive worldwide boom in the use of bicycles, and cargo bikes are no exception.
In Germany, 103,200 cargo bikes have been sold in 2020 (124 vehicles per 100,000 inh.). It is a 35% increase compared to 2019, with 3 out of 4 being electrically assisted. In France, sales of e-cargo bikes reached 11,000 in 2020 (16 vehicles per 100,000 inh.)… or a 354% increase compared to 2019!
This trend is also visible in the bike-sharing industry, where products and services are developing faster and in higher numbers. That was actually my forecast for 2020 😉
A public will to develop services in Germany and Switzerland
Germany is by far the leading country with services available across 150 cities according to the association cargobike.jetzt. Funded by the German Ministry of Transports, the Tink pilot has been launched in 2016, with 12 cargo bikes available in Constanz and Nordsted. Nextbike, the operator, is since expanding in the country, and recently launched 12 e-cargobikes as part of Freiburg's Frelo bike-share service. The public transport operator Deutsche Bahn also introduced e-cargobikes in its Call-a-Bike fleets in Hamburg and Stuttgart
In Switzerland, the shared e-cargobike service carvelo2go was launched as part of the carvelo inititiative, that aimed to promote cargo-bikes across the country. Despite the end of public funding in 2019, a fleet of 300 cargo-bikes is still available across 70 cities! "The service is still operated by TCS, and funded by the Swiss Post, TCS, and public funds from the local authorities", confirmed Arnaud Nicolay, French-speaking Switzerland Manager of carvelo2go. The vehicles are available for A-to-A trips, from different local shops where you will get the battery and lock key.
Choose your solution !
Different dock-based solutions are available for cargo-bikes. An automated solution has been implemented in Aspern/AUT, close to Vienna. Called SeestadtFLOTTE, this mixed classic/cargo bike-share scheme has 4 e-cargobikes i:Sy e-Cargo, equipped with a locking system on top of the rear wheel. More recently, Sigo developed an innovative solution, including an induction charging device. 50 e-cargo bikes are now available across 12 German cities, and the company is expecting high growth in 2021. "Sigo chose to seek parterships with real estate developers to accelerate its development, but is also signing contracts with local authorities" says Katrin Kester, Sigo's head of Communication.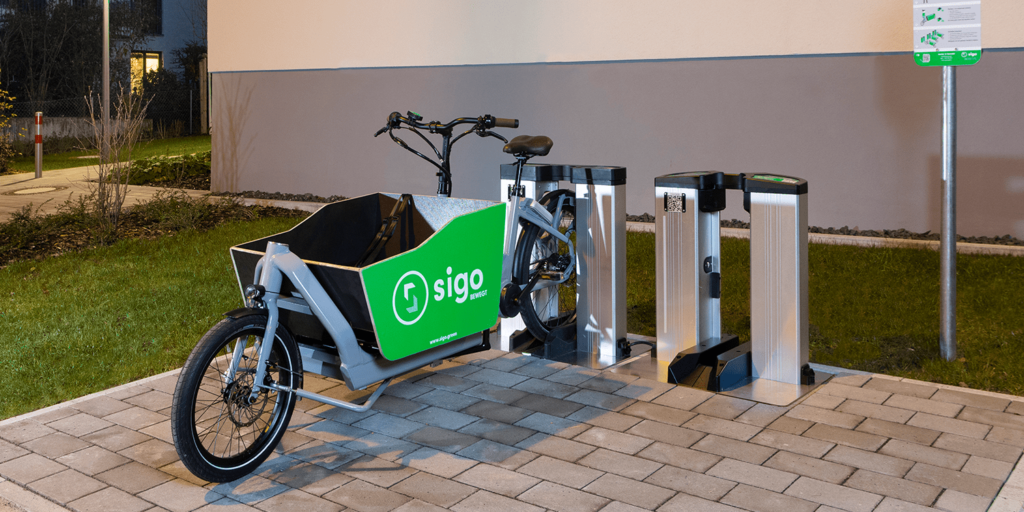 In 2017, the first free-floating e-cargobike operator, Cargoroo, has been created and now operates services in Den Haag/NED and Leuven/BEL, using Urban Arrows with smart locks. Bikes and scooters operators are also trying to widden their vehicle range. On March 25th, Bleeper, who operates free-floating bikes in Dublin/IRL since 2018, unveiled a cargo-bike version that should soon hit the streets of the Irish capital after a beta-test validation. Pony, the french scooter and bike operator, should launch the first batch of 250 long-tail bikes, able to host one passenger, in Paris/FRA and Grenoble/FRA by the end of May, when the second of 500 will arrive during the summer. This will be an important live test to measure customers needs for two-passengers options! Let's not forget that Voi announced in May 2019 that e-cargo bikes would be added to its e-scooters and e-bikes fleets… but we are still waiting for it.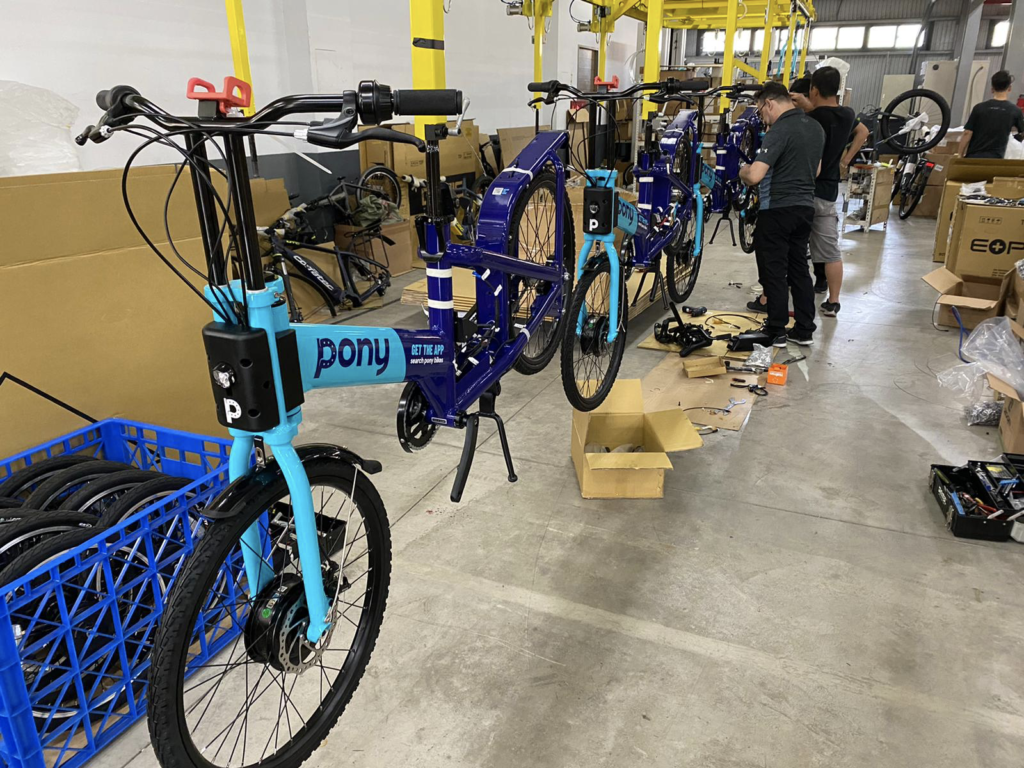 Specific requirements for cargo bikes
Electric assistance can be considered as a must for shared cargo bikes. It of course allows to cover more distance, and climb steeper roads, but most of all to handle heavy loads, would it be cargo or passengers. It implies that the vehicle is expensive- at least 3,000€ – and that it therefore requires better anti-theft solutions. Docks are an obvious solution, but with the drawbacks of cost and installation complexity. Dockless is the low-cost option with a GPS tracker and smartlock.
Another thing to consider to offer a shared cargo-bike service is parking spaces, as most models will not fit in traditional bike racks. If it can be easy to create new dedicated parking zones in small and medium-sized cities (or US ones), finding available space for these long vehicles in dense cities such as Paris, Rome or Barcelona can proved to be a headache… and cut back on the benefits of freefloating if the zones are not enough. The development of such services will therefore have to come with the political will to transfer more space to micromobility.
Shared cargo bikes might not work anywhere yet but will definitely take advantage of the current cycling boom, which helps to improve the infrastructure (cycle lanes and parking) that are a must to generalise cargo-bike usage. Operators are on their way to offer reliable shared solutions to mobility needs that are not yet answered: carrying passengers or cargo on a light vehicle.