Wireless charging, the next step towards sustainable shared micromobility?
The recent history of shared micromobility took us from dock-based to dockless solutions. The latest option allowed a wider and faster adoption of those services across the world, not needing important investment and infrastructure work to set up stations.
But as operators are now heavily working on optimising their unit economics, automatisation is a must. As battery charging represents 45% of the operating costs, according to a recent Bird's SPAC document, it is a major R&D field for operators and solution providers.
If scooter docks are getting more and more common with solutions from Swiftmile, used in the Jelby network in Berlin, or Charge, who is testing a few stations in Paris, the ultimate solution combining automatic charging with compatibility with any vehicle and highest safety standards is still under development. It might use inductive charging.
Seamless
The previously mentioned solutions still require the user to plug in the cable to the scooter to charge it. Even if you are using incentives, this is not an acceptable user experience, as you are asking the rider to 1/Return the vehicle at a specific point 2/Plug the cable. The addition of the station should only add a few hundred meters to the rider's trip, not changing the rental or return process.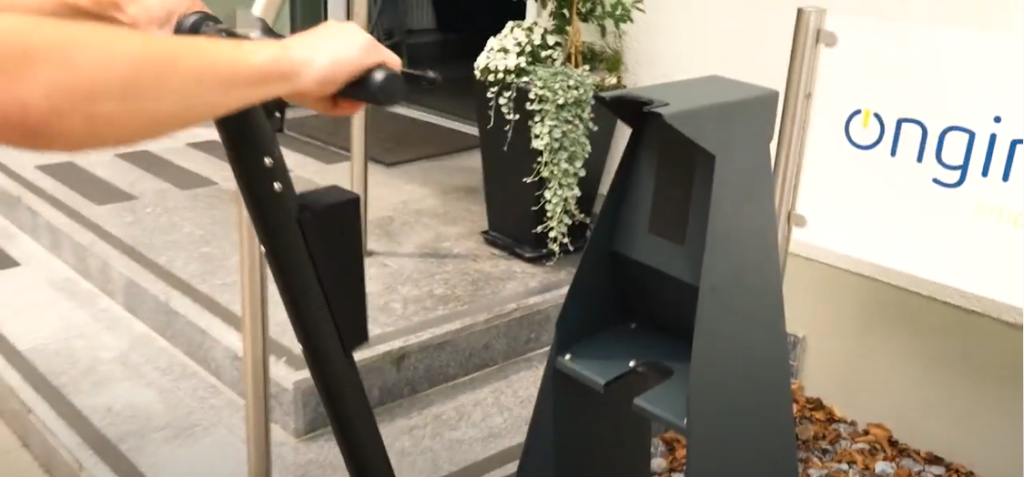 Inductive charging is fully seamless for the rider, who just has to drop the vehicle at a good location. No need to plug any cable or activate any mechanism, thus the customer process is not too much affected and potentially compensated by incentives.
Flexibility
A major barrier to overcome by suppliers is to develop a vehicle-agnostic solution. As most (major) cities are providing license to 2 or 3 operators who are not all using the same scooter models – even though most are using either Segway Max or Okai ES400-, the docks have to be flexible enough to host all of them.
Inductive charging allows more flexibility, as it can work with an air gap of up to 10cm (affecting the charging efficiency). It means that you do not have to respect a very specific angle or position and that you can cover the full range of steering tubes angles and heights for front charging solutions, or the full range of deck heights for bottom charging ones.
Two types of solutions
Some solutions (Duckt, Kuhmute, PBSC, Smoove, IVelo…) are combining locking and charging. The system takes advantage of the locking mechanism parts to allow charging. But solutions using inductive charging are being developed with the major advantage to improve the system's reliability, as it is using fewer mechanical parts. ONgineer and the latest product from LG Electronics currently trialled in Bucheon, South Korea, by the local operator Kickgoing, are the best examples. The system consists of a classic dock, with a locking "jaw" on top, and an inductive charging plate. A device fitted on the scooter's steering tube allows inductive battery charging.
Then you have charging-only docks, or platforms to be more accurate. They have the advantages to be more compact, cheaper, and more easily integrated into the public landscape. The platform encompasses the induction coil and guides the scooter to align both coils for optimised charging. Intis (see photo above) developed an interesting solution (now compatible with Okai ES400) and is competing with Magment's Magdock, a unique solution made of magnetic concrete. It also worth reminding that Voi worked on a demonstration system with Bumblebee Power (a spinout from the Wireless Power Lab, Imperial College London)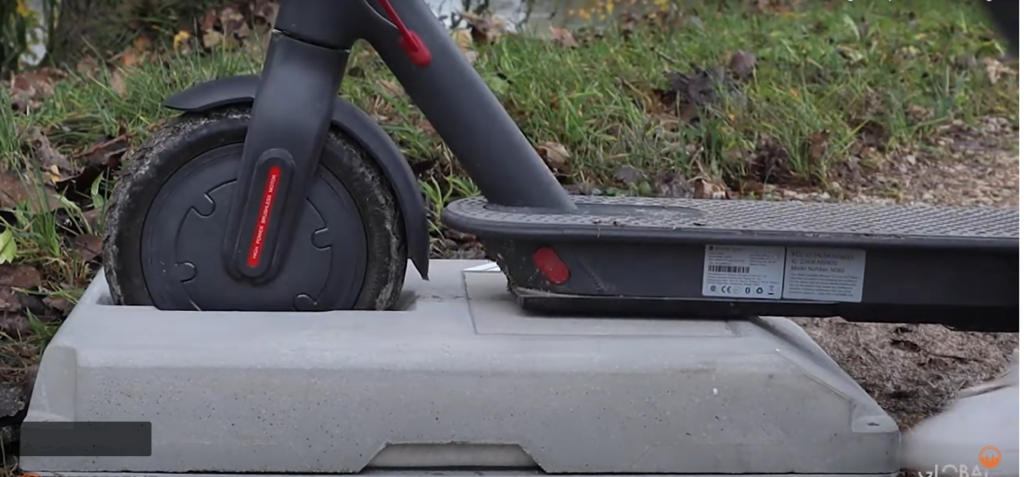 If inductive charging is still in its early ages, it might become a standard in shared micromobility operation. If scooter docks are more widely adopted (an important trial will start soon in Paris with Duckt docks), it could be an interesting way to improve their reliability.
But I see more potential in charging-only platforms. Their lower cost and easier integration into the cities' streets could allow to quickly build dense enough networks, that would increase vehicles' availability, and operating costs by drastically cutting the swapping/charging needs, and aggregating the vehicles around those "stations".