How VOI wants to conquer Europe
Taking another path from Bird toward profitability, VOI, the Swedish e-scooter operator, organised a press conference to communicate on its strategical choices for the coming year. Those who came have not been disappointed.
Expansion plans
VOI will stay focused on Europe. Already operating in 9 countries and 18 cities, is planning to launch in 4 more countries this summer: Itay, Belgium, Poland, and Germany. Germany is one of the last closed markets, as it is still illegal to ride e-scooters there… but the situation is said to change quickly, before the end of June. VOI affirms itself as the leader to invest in the German market.
Multi-micromobility
Together with the strategic plan, VOI unveiled 5 new vehicles. The company is currently operating fleets of Segway ES4, and took time to develop its own products, with a focus on durability and maintenance performance (it is no secret that operators business model still has to become profitable). 3 new scooter models will be introduced:
The VOIager 2 – It is the new standard model of VOI, build to last. New aluminium frame, 10′ wheels, swappable battery, double-kickstand. The custom-designed motorisation and battery allow a 50km range.
the VOIager 2 / 3-wheels – An evolution of the previous model with 3 wheels! It might be a good solution in slippery conditions, for Nordic countries for example 😉
The VOIager 1 – Specifically designed for the German market, it keeps a more standard design. My question: what are the specificities of the German legislation? I wonder why this model keeps smaller wheels, single-kickstand…
And here comes the surprise: VOI will offer 2 types of e-bikes:
The VOI Bike – Custom-design for this e-bike, which meets European regulations. It has a swappable battery as well, associated with a central motorisation. Another point for reliability.
The VOI Cargo – This e-tricycle might be a hit in Nordic countries… and a pain to operate in Latin countries. Ah, cultural difference.
Two comments on the products: VOI seems to have developed all these vehicles with the interesting swappable-battery feature. Why not having worked on using the same batteries for any vehicle? It would have simplified operations a lot.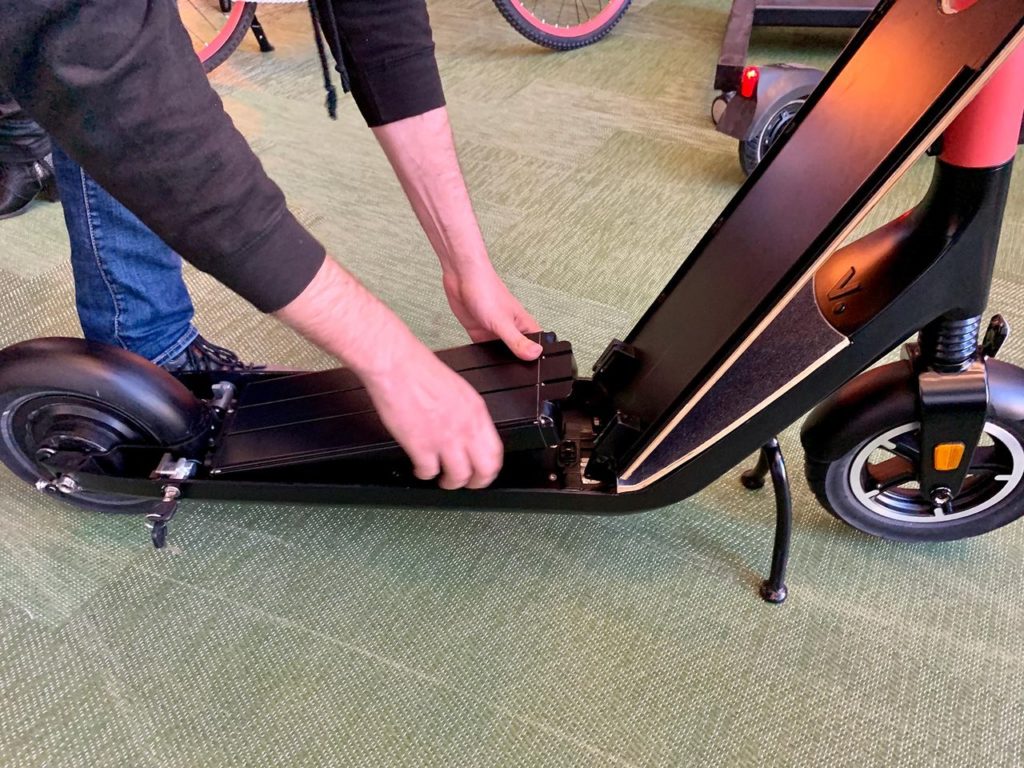 Second, What about safety? None of the scooters is integrating lock-to mechanism. And we did not hear a word about a lock for both of the bikes as well. Will they use conventional smart-locks? Motor braking?
VOI is adopting a clever development strategy, focusing to develop in more European countries using more durable and reliable e-scooters. I suppose bikes will first be available in Northern Europe, in order to test both the vehicles and the user demand, before expanding.
It is quite interesting to notice the market evolution on shared micromobility: while the US operators are diversifying with heavier vehicles (Lime Pods, Bolt Mobility B-Nano…) European one are adopting bicycles. A consequence of urbanism choices, and therefore cultural difference.