Ticket To Ride… A Scooter
I am glad to collaborate with fluctuo for a set of articles to analyze and explain mobility phenomenons. Episode #5: the emergence of shared e-scooters in the UK.
By the end of the Covid-19 lockdown in Europe, shared e-scooters companies were staring at one of the latest untapped markets of the continent: the United-Kingdom.
Becoming aware of the potential of these new services (especially given the reluctance of people to use public transports), the British government decided to speed up the authorization process for shared e-scooter pilots.
Early excitement
Initially, the government had planned to explore new mobility options in four "Future Transport Zones". But, by the end of June 2020, after a consultation led by the British Department for Transportation (DfT), the government ended up authorizing e-scooters pilots as of July 4th in all the country. It was celebration time both for operators and local authorities which had expressed their common interest in early launches.
Operators like Lime, Bird and Voi had been lobbying hard for months to change the local regulation banning e-scooter from public land and speed-up an update of the 1988 Road Traffic Act. They also had been active at recruiting teams since late 2019. The launch of trials opening just accelerated the "mercato", with European companies taking advantage of recent lay-offs at Uber/Jump and Bird.
As discussions with cities were well underway, industry experts and media were expecting multiple launches during the summer… but it didn't happen that way!
A slow and bumpy start
So far, only 3 pilots have started in the UK! The first service was launched in the Tees Valley Combined Authority on July 14th, where local company Ginger deployed 100 e-scooters. The service got off to a rough start due to incoherent regulation rules (service only available from 9 am to 5 pm), the lack of experience of the operator and its difficulties to enforce geofenced zones restrictions, driving license requirement and riders age limit rules, (especially when 2 teenagers got caught riding e-scooters on the highway).
Milton Keynes — where Lime is already operating a small fleet of e-bikes — is the second city to host a shared e-scooter trial, with Lime, Ginger & Spin. The vehicles are hitting the streets progressively: Spin deployed 120 scooters on August 22nd, Lime 100 on August 26th (with plans for 500), while Ginger has not launched yet.
But the winner of this first round of trials seems to be the Swedish operator Voi, who has secured 4 exclusive contracts in the UK so far. They have just started to operate 300 e-scooters in Northamptonshire (Northampton and Kettering) and will soon roll out a mixed fleet of e-scooters and e-bikes in Cambridge. Later this month, Voi will deploy 200 scooters in both Birmingham and Coventry, with an option to expand its fleet to up to 10,000 vehicles in the West Midlands area.
According to multiple sources, VOI has also secured the spot in Liverpool, reaping the fruits of its intense and early lobbying in the UK. But it's European rival, German operator Tier, should not be counted out. Rumour has it Tier should be awarded a permit in York.
Local operators will also play a major role. Zwings has been awarded the contract to operate e-scooters in Gloucestershire as well as in 4 other cities. And Beryl will operate a multimodal fleet of bikes, e-bikes and e-scooters in Norwich. Knowledge of local specificities and strong ties with public stakeholders are key to success, balancing the lack of experience of those companies. "As a UK based operator, we recognise that towns and cities require hyper-localised solutions to most effectively deliver tailored support to their communities" states Joe Lewin, Zwings' CEO.
The new battlefield for innovation
On August 24th, Tier held an event in London to showcase its new e-scooter sharing solutions, highlighting the importance of the UK in its expansion strategy. CEO Lawrence Leuschner unveiled an improved scooter model answering safety concerns (with indicators and a smart helmet box), in addition to their innovative battery swapping solution.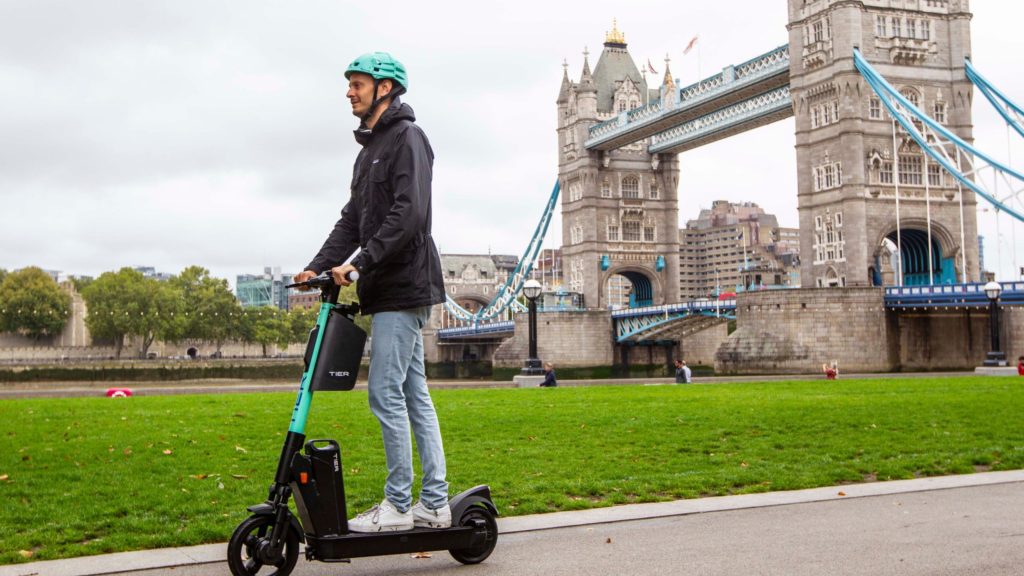 The exact same day, VOI unveiled its new e-scooter model equipped with indicators, "copper-tape grips eliminating 99.8% of viruses" and embedded noise and particles sensors. For both operators, it's crucial to tackle safety and health issues in order to be one step ahead of their competitors.
So, what's next ?
So far, 12 companies have their e-scooter model officially approved by the Department for Transportation to operate in the UK: Bird, Bolt, Dott, Ginger, Helbiz, Lime, Link, Spin, Tier, Voi, Wind, and Zipp… while another dozen expressed interest to enter the market through the local non-profit CoMoUK.
The UK is currently one of the most competitive markets for scooter sharing: no less than 30 operators applied to the West Midlands tender and 22 to Liverpool's. Backstage, operators are working full-time to answer RFPs, tenders, and sign direct contracts with local authorities. Matthew Barrie, Bolt's Country manager, confirmed "an average of 3 to 4 tender submissions per week".
Multiple councils have expressed their interest in hosting a shared e-scooter service. Tender results are expected in Buckinghamshire, Isle of Wight, Liverpool, Nottingham and Derby, Oxford, Portsmouth, Redditch, South Somerset, Somerset West and Taunton, West of England (Bristol and Bath), and York. Other authorities such as Aylesbury and High Wycombe, Leeds, Newcastle or Southampton are considering the adoption of alternative transport solutions. As urban mobility expert Oliver O'Brien points out: "almost all these areas have had bike-share systems that have failed in the past, often due to vandalism", emphasizing that e-scooters are a unique second chance for them to provide a share micromobility service.
London is on the list, of course, but as for bike-share, the boroughs complexity will be a major barrier to building an efficient service. Experts are still expecting a smart move for a London-wide shared micromobility policy. Maybe trials in other British cities will convince decision-makers to do their best to support shared micromobility development in the capital, but the window of opportunities is short: in order to fulfill its e-scooter sharing evaluation and feed the national legislation change on time, the Department for Transportation is expecting the last procurement processes to be launched before the end of September.
By Alexandre Gauquelin (Shared Micromobility) and Julien Chamussy (fluctuo)