The rise, fall and resurrection of Mobike in Europe
I am glad to collaborate with fluctuo for a set of articles to analyse and explain mobility phenomenons highlighted by their products. Episode #2: Mobike story in Europe.
Mobike and ofo, the Chinese dockless bike-sharing pioneers, became a global phenomenon in 2017 when tens of thousands of red & yellow bikes were deployed in the streets of Western cities. This first major international expansion of Chinese Mobility Service Providers (MSPs) drew attention, for better and for worse, to the rise of new shared micromobility services.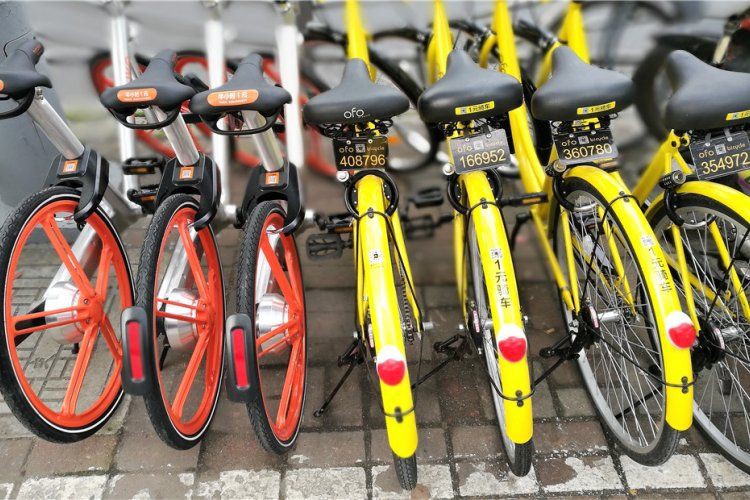 Both companies were backed by Chinese internet giants. Mobike raised US$600 million in June 2017 in Series E funding led by Tencent and was eventually acquired in 2018 by Chinese web company Meituan for US$2.7 billion. ofo raised more than US$2,2 billion from multiple investors including Xiaomi, Didi Chuxing and Alibaba.
But the global expansion race between the two close enemies led to a massive cash-burning that could not last for long. ofo announced the dissolution of its international division in January 2019, while Meituan confirmed, two months later, its exit from most overseas markets.
Here ends the parallel between Mobike and Ofo. The red & silver bikes are still a common sight in many European cities, whereas the yellow ones have completely disappeared.
Looking for an exit
When the country managers in Europe were informed of the end of Mobike's local operations, they settled on a plan to spin off the European operations. The first round of negotiations failed in June 2019 and Mobike then decided on a 6-month ramp down.
But a second round of negotiations by the end of 2019 was more successful and led to a separation of Mobike operations in Europe. Mobike Northern Europe and Mobike Southern Europe are now following different paths to secure their future.
The Northern branch completed its buyout in December 2019 and is currently in the process of transferring the local companies direction to Jan Van der Ven (former Northern Europe general manager for Mobike): in the UK (completed on Dec 15th 2019), France (completed on Jan 24th 2020), the Netherlands and Germany (still underway).
The Southern branch (managing operations in Spain and Italy) now relies entirely on the Italian company who helped Mobike to set a foothold in Italy in July 2017: Idri BK, which owned the Mobike franchise in Italy, secured the buy-out of both Spanish and Italian operations in November 2019 and unveiled a new branding: "Movi by Mobike".
Stormy weather in Northern Europe
Mobike Northern Europe is now on its own and has to raise funds even though VCs are asking for proofs of profitability and sustainability.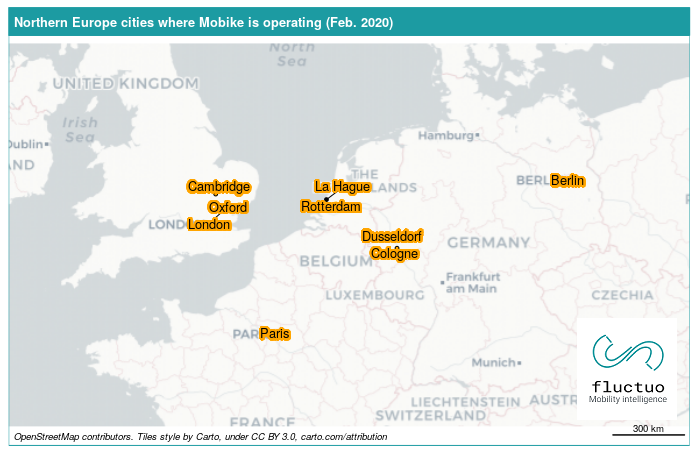 In this transitioning period, the leitmotiv seems to be "staying alive with what we have". Mobike's fleets have suffered from regular usage and a lack of investment. As a direct consequence, the number of bikes available has fallen dramatically during the last 6 months :
– Germany : -40% (Dec 2019 vs Aug 2019)
– UK : -70% (Feb 2020 vs June 2019 )
– France : -87% (Feb 2020 vs June 2019)
Yet this downward trend seems to have been reversed in Germany, the UK and the Netherlands since January 2020. In Germany, with operations in Berlin, Köln, and Düsseldorf, the number of trips has been increasing steadily for the last 2 months. There are various possible explanations for this recovery (including fresh money injection allowing to buy new bikes and to hire more staff…) but M. Van der Ven did not wish to comment.
On the other hand, in France, despite ridership peaks due to the transit strike in December 2019, the curve carries on an endless fall. With less than 300 bikes available and 100 daily trips, the service seems to quietly die. Several sources confirm that there is no management staff anymore in Paris: only remain a couple of independent contractors who take care of daily maintenance.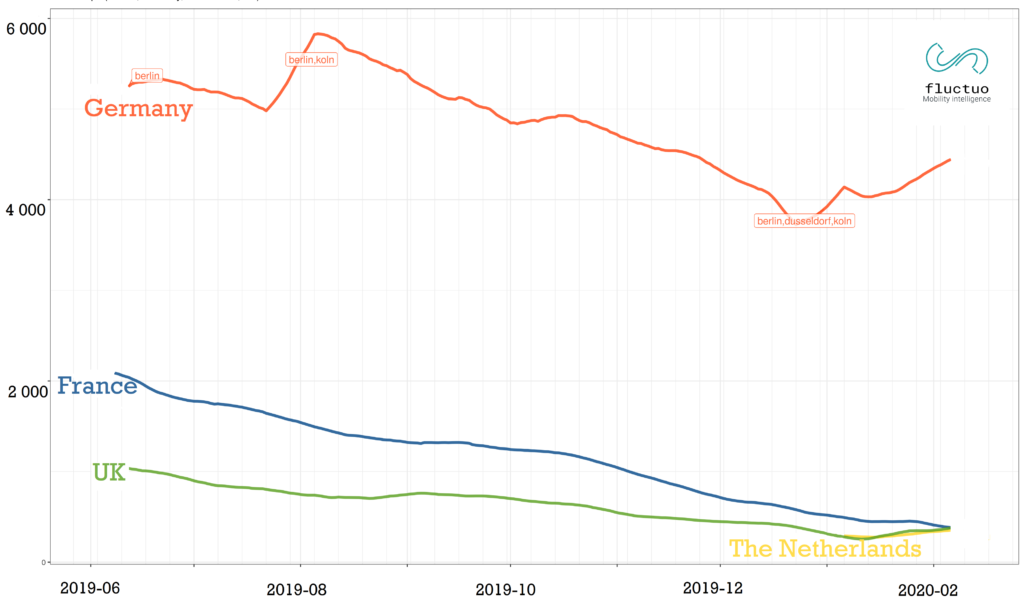 If M. Van der Ven is on his way to take over the different entities that once formed Mobike Northern Europe, each local entity seems to be managed differently, with its own strategy.
Sunny days in Southern Europe
The story in Italy and Spain is very different thanks to the initial involvement of the local operator Idri BK. The impact of the buyout process on the operations seems to be lesser. In fact, Movi by Mobike launched in three Italian cities in 2019: Padova in May, Lignano Sabbiadoro in August and Caorle in September. These are the only Mobike launches outside of China.
The number of available bikes speaks for itself, and Hunab Moreno, regional manager of Movi by Mobike, confirms that the company now "operates around 30 000 bikes in 15 cities, while we secured contracts with 3 more".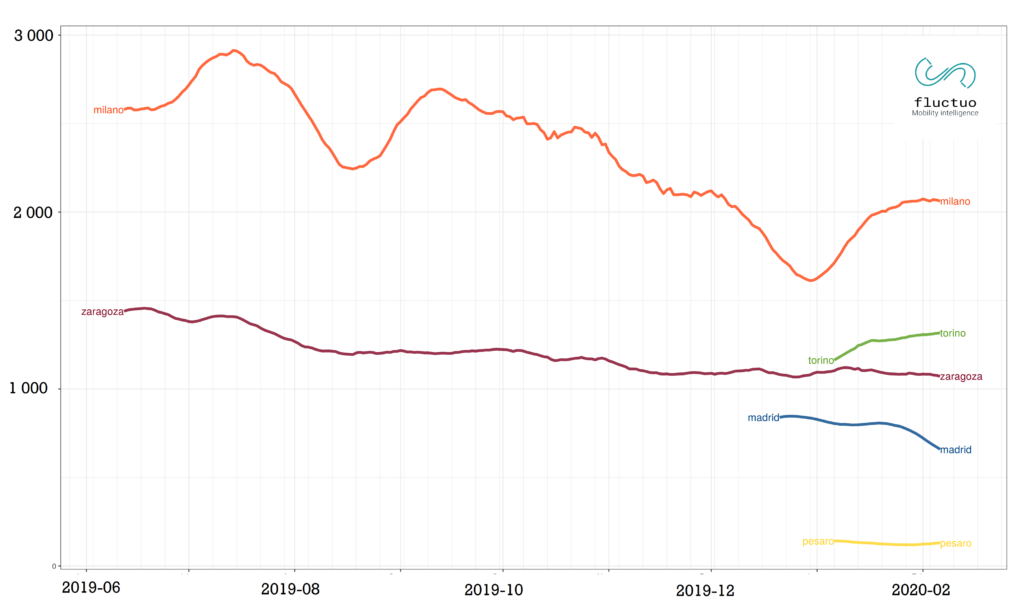 The bikes are also more frequently used, with Torino, Zaragoza and Milano having the best numbers of daily trips per available bike.
Movi by Mobike actually has ambitious plans in Italy and Spain. The company is planning to go all-in on electric vehicles, with the launch of 2 e-bike models, 3 e-scooter models, a covered e-vehicle and a delivery e-vehicle. No less !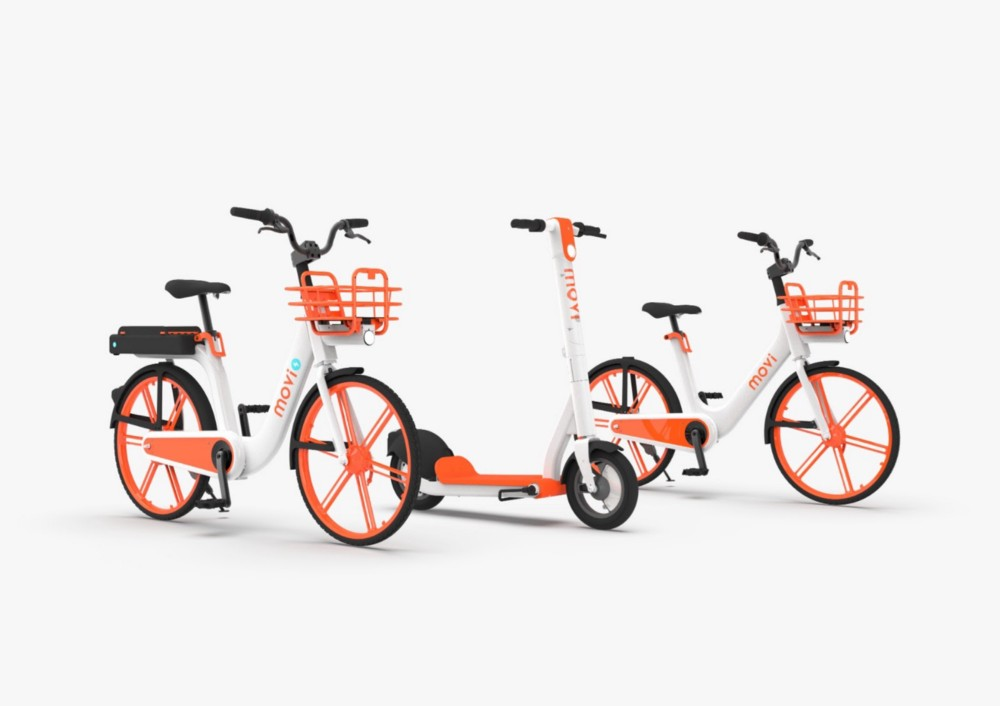 It also plans to expand to other countries, with a focus on big cities in EMEA. "Thanks to a profitable business model based on strong relationships with cities (Movi by Mobike operates in 9 Italian cities with public subsidies), we are able to invest in R&D and business development", says Hunab Moreno. If the coming fundraising is successful, Movi by Mobike will appear as a serious contender in both countries.
What's in store for Mobike in 2020 ?
Back to 2017, when Mobike and ofo started to deploy their bikes in Europe, the only competitors were station-based bike-sharing services like Vélib' in Paris or Santander Cycles in London. But the competitive landscape has dramatically changed since 2017, with the emergence of multiple free-floating e-scooters / e-bikes operators.
Will Movi by Mobike succeed to rise again as one of the major Mobility Service Providers in Southern Europe? Will Mobike find the cash to build a sustainable business in the countries of Northern Europe? We should have a clearer picture by the end of 2020.
By Alexandre Gauquelin (Shared Micromobility) and Julien Chamussy (fluctuo)