The massive electrification of public bike-share
The 2020's pandemic has been an impressive catalyst to bike adoption all around the world, and even more with e-bikes. Sales of privately owned e-bikes have skyrocketed in most countries, with the notable examples of Germany (+43%), Switzerland (+28.5%), the Netherlands (+30%)… and the USA (+145%)!!
If most authorities were already aware of the potential of e-bikes to strengthen their public bike-share services (the electrification is going on for almost 5 years), 2020 has also been a catalyst in this field. Every week comes with an impressive quantity of new announcements of e-bikes introduction into shared bikes fleets.
History of public ebike-sharing
BiciMad was the first large scale public ebike-sharing service: launched in 2014 in Madrid, the 2,500 e-bikes available across 260 stations became – not without troubles – an important piece of the transport network in the Spanish capital. It is now operated by Empresa Municipal de Transportes de Madrid (Madrid's Public Transport Company), and welcomed a complementary dockless option BiciMad Go in September 2020.
The second milestone came during the winter of 2018 when Smovengo won the Vélib' Métropole contract for the Paris region. Vélib', one of the world's most successful bike-share service, get a complete lifting, including a share of 30% of e-bikes in its fleet. Even though the roll-out was complicated, once again, the success is complete now, as e-bikes are used for 50% of Vélib's trips.
Since then, many upgrades took place within major bike-share services. Lyft launched trials a couple of hundred e-bikes in the CitiBike (NYC), Capital Bikeshare (DC), or Bay Wheels (SF) fleets… still slowed down by technical difficulties. E-bikes are now back in higher numbers in those cities, always with an impressive adoption rate: in NYC, the 3,700 e-bikes are ridden 9 times a day, 3 times more than bikes. On the same page, Bixi (Montreal) trials a hundred e-bikes in 2019 before launching at a large scale in 2020 with 1,000 more. Other services such as Villo (Brussels, 1,800 e-bikes) chose to launch with high e-bike shares directly.
From 2019 onwards, almost all the public bike-share services that launched or renewed their solution switched to mixed or full-electric fleets. A trend that is not going to slow down for several reasons.
Why now?
The COVID consequences have been huge for the cycling industry, and the bike-share industry in particular. As public transport suffered from the promiscuity related fears in major cities, many turned to shared mobility as a healthier option. In fact, bike-share services saw important raises in ridership in 2020 despite lock-down measures. But attracting riders who were not keen on cycling before requires more effort: here comes the e-bike's power! People with physical disabilities, businessmen or women not willing to sweat before arriving at the office… They no have the perfect shared vehicle available.
But the main point is that bike-share solution suppliers are now ready to provide reliable solutions. The above examples of Bonopark with BiciMad, Smoove with Vélib', or Lyft, have shown that the industry was still in the R&D phase before 2019: operators were basically launching fleets of… prototypes. From the e-bike itself with the communication between the communication devices and the new electronic components required to monitor the motorisation system, to the docks, that now require important roadwork for electrical connection or battery charging that have to be carefully managed… each part of the solution required a long development to end up with a fully reliable solution. All major companies such as PBSC, Smoove, Freebike and others are now able to provide tried-and-tested mixed or electric bike-share solutions. After a couple of years of development?
A real momentum
The trend is definitely global. Setting the list of services that have integrated e-bikes in their fleets in the past couple of years, or launched with a mixed or full-electric fleet is an endless job, especially in Northern America and Europe.
But just comparing the fleet distribution in some of the most successful bike-share services gives a good idea of the e-bike momentum.

And of course, all the new tenders being published are asking for more and more important shares of e-bikes within the fleets. In Marseille (FRA), Le Vélo's replacement solution will be 100% electric with a fleet of 2,000 e-bikes.
Challenges
Adding e-bikes to a bike-share fleet comes with its challenges. First of all the need for securisation is higher, as the motorisation system and battery almost double the bicycle cost. The locking mechanisms, in the dock or out of the station, are therefore a focus point for authorities, while embedded GPS is now a must to retrieve stolen or lost bicycles.
Battery charging management is also a key point. Operating with swappable batteries, or charging docks (or both?) are very different strategies. Swappable batteries allow to add e-bikes without retrofitting the station (Lyft in the USA) but require more monitoring and staff actions. Charging docks provides a fully automatic solution, but for very high hardware and installation costs.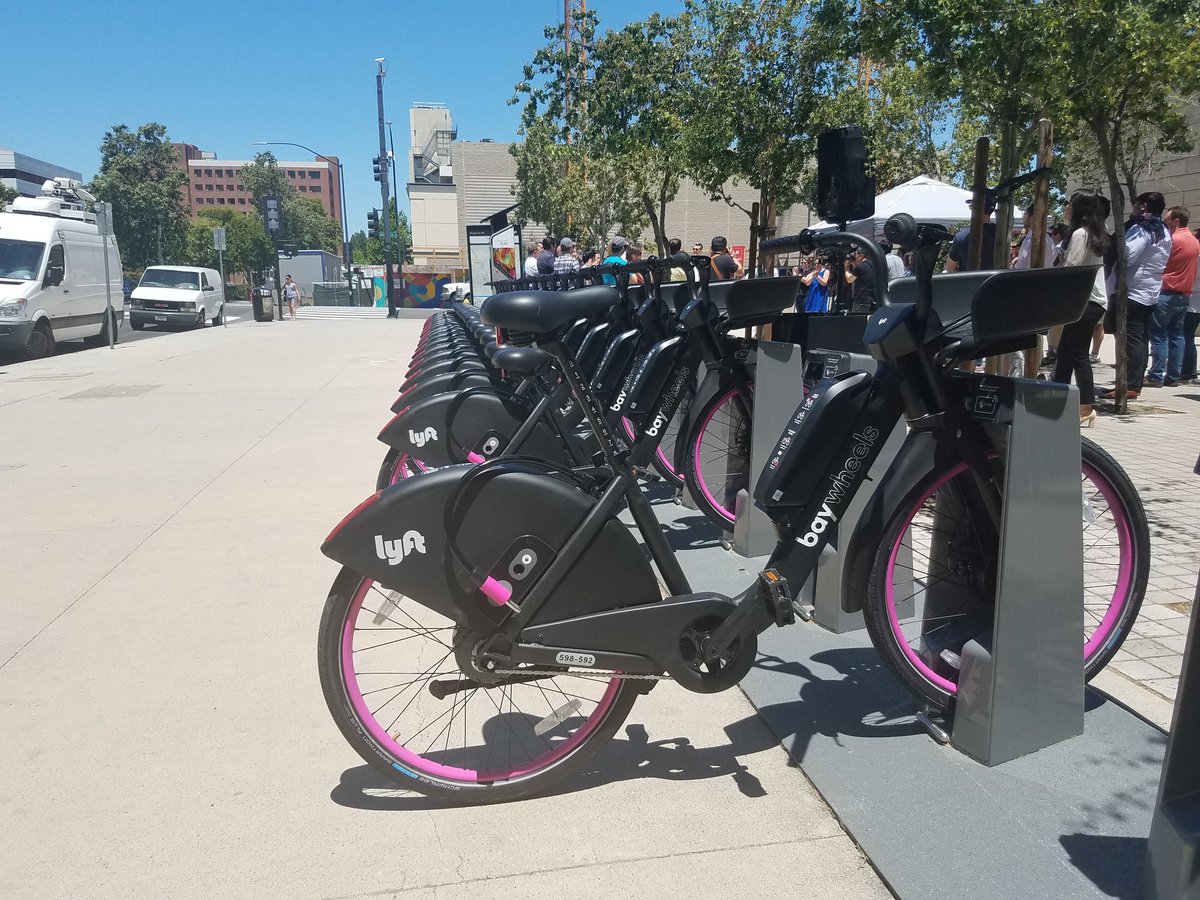 Then for mixed fleets with mechanical bikes and e-bikes, you have to find the balance to match the demand. Vélib' e-bikes make 30% of the fleet but 50% of the rides. As a result, the e-bikes are ridden more than 10 times a day, requiring more maintenance than expected. And the e-bikes availability is low, resulting in a poor customer experience. Paris authorities already voted the expansion of the e-Vélib fleet to 40%.
So yes, we have come to the era of e-bikes, and it will be reflected in the bike-sharing industry. E-bikes are a major tool to attract new riders, the ones who require the most effort to be convinced. They are also a way to cover more usages (longer trips, steep roads) and I believe it will be the key to introduce new form factors such as cargo-bikes or 2-seaters bikes.