LOM – An analysis of the recommendations for free-floating services in France.
In France, following the National Mobility Convention, the Loi d'Orientation des Mobilités (or LOM, Mobility Orientation Law) has been under discussion from November 2018 until its publication in December 2019. It was aimed to answer four main problems:
the lack of mobility solutions in many territories
the climatic and environmental emergency, a call to change our transportation habits
the negative impact of an infrastructure policy in favor of large projects
a revolution in innovation and usages, that creates a huge opportunity
Born in the midst of the "Chinese" free-floating bike-share boom in 2018, the emergence of free-floating shared mobility services and the need for a framework around those activities were the topic of Article 41. It worthed it, as there are now around 32,000 dockless shared vehicles in France, that enable around 1M trips every month…
Even for a French national, it can be difficult to find enough strength to read and understand the law texts. The French Ministry of Transports had a good idea to produce a Recommendation Book for Free-floating Vehicles, explaining the core of LOM's Article 41. Let's go through it…
Setting new contractual rules between operators and authorities
The historical contracts for transport services in France, Public Procurement and Public Service Delegation contracts were of course not matching with the characteristics of free-floating services: fast-moving and… free. The LOM sets a faster and more flexible process that allows the competent authorities to select an operator after a simple public call for expression of interest. It is then up to this authority to set its selection process, but with no specific rules to follow as for a tender…
This process is possible due to the fact that the LOM sets a national framework stating that free-floating services operation creates a public space occupation. Operators, therefore, require a temporary deed for public space occupation, that authorities (Mayors in the case of urban services) are delivering after a tender or more usually a call for expression of interest. After the publication of the results, the local Mobility Organising Authority (AOM) has to express its feedback on the decision (enjoy the French administrative millefeuille).
A framework on 8 key aspects
Article 41 of the LOM is presented as "a toolbox, enabling a lively and constructive dialogue between operators and public authorities, to a good usage of public space while helping to integrate and make free-floating services durable in the transports offer". Article 41 provides instructions to authorities willing to regulate free-floating services on the following 8 items.
Data transfer from the operator to the public authority
The LOM allows the public authority to ask operators to share any data (with GDPR compliance, of course) that can help to check compliance with the deed's criteria. The number of available vehicles, number, duration and length of trips, origin-destination, number of unique users, are among the most common data listed in the document. Article 25 of the LOM also make mandatory for all mobility operator to share the data required for travellers information.
The LOM allows public authorities to cap the fleet sizes. It has to take into account the minimum fleet size required for a service to be economically viable, and the maximum fleet size not to flood the public space with shared vehicles. Public authorities can therefore choose to leave the fleet sizes unregulated or to deliver a limited number of public space occupation deeds.
Spatial conditions for vehicles deployment
The LOM basically allows the public authority to define the operation area, "after discussion with the operator". The discussion has to also encompass the definition of all geofenced areas (parking, no-ride zones…).
Compliance with riding and parking rules
In addition to the Highway Code, the LOM allows implementing additional rules, especially in places of potential conflicts with other road users as pedestrian areas. Operators have to use technical means such as GPS solutions to enforce safety rules while working together with public authorities to launch communication and education actions.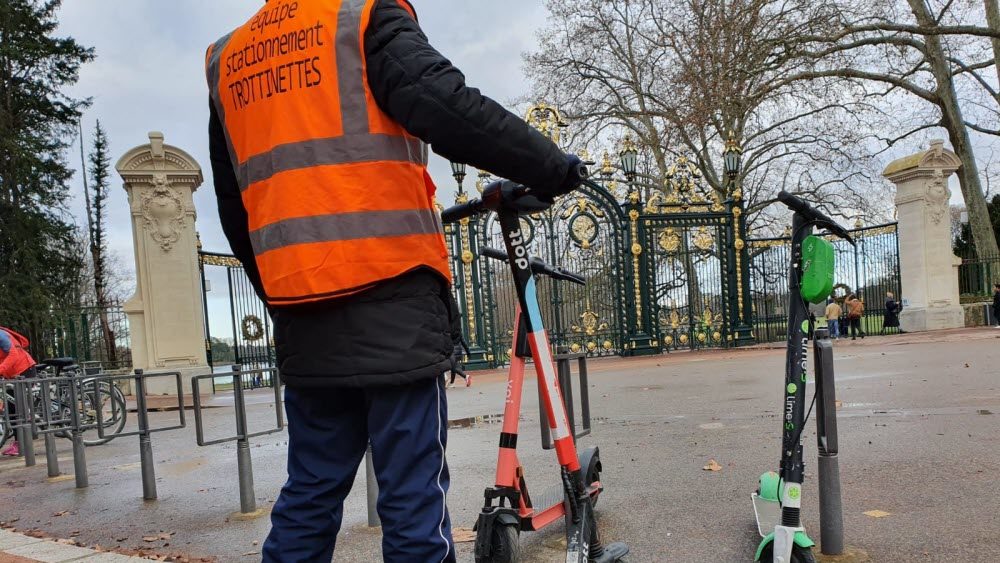 Removal of unavailable vehicles
Through the public space occupation deed can be set deadlines to remove any out of order vehicle from the time of declaration to avoid difficulties to access public space. It also allows setting removal requirements for specific situations, such as for operators withdrawing from a city, or even to fish vehicles from rivers and lakes. Good practices are set between 24 and 48 hours for light vehicles.
Respect of polluting emissions and greenhouse effect gaz caps
This section aims to provide guidance is the vehicles selection in term of environmental impact. It is unfortunately forgetting the topic of operation vehicles, which only have to respect national restrictions such as ZFE-m (Low Mobility Emission Zones). The chart advises to adopt electric vehicles, of course, but also to consider the full life cycle of the vehicle.
Restrictions on advertising on the vehicles
Article 41 gives power to local authorities to ban any advertising, other than for the shared mobility service itself, on the shared vehicles. It also considers advertising as an important driver for changing transports habits, especially in suburban areas.
Respecting neighborhood tranquility
Mayors being the main actors against noise pollution in urban areas, as well as the authority to deliver deeds for shared mobility services, have to take into account the noise impact of the said vehicles. Along with the benefits of electric motorisation, the noise impact of operations (maintenance, charging, removal of vehicles), or vehicles' alarms has to be evaluated.
The tricky question of how to regulate shared micromobility
As an early adopter of shared micromobility services, France chose a "try then regulate" policy. Having observed the benefits and risks of free-floating services in its transports offer, the French government soon started to work on an adapted framework to start cleaning this grey zone where those services were lying. The LOM, and particularly Article 41, clarify the contractual relationship between operators and local authorities while giving advice on the most common questions raised: setting fleet caps or not? how to ensure pedestrians safety?
Other countries such as UK and Ireland chose a "prohibit then regulate then allow" policy, based on the experience of other countries (but do not forget that each country has its specificities that only experience can reveal). This more cautious approach tries to avoid major issues but might prevent a potential massive adoption due to limited fleet size and duration of pilot projects.