Paris' bet on e-bikes
Micromobility has become a political topic in Métropole du Grand Paris. Controversy around infrastructure choices, or the wave of e-scooter fleets, have fed media and politicans. But everybody agree on e-bikes : whether you are in transit, living or visiting Paris, you now have an e-bike rental solution ! Just choose which one…
Grant for e-bike purchase
Paris has been one of the first french cities to introduce a grant for e-bike (and cargo-bike) purchase in 2009. Any Parisian can now get up to 33% of the bike price (limited to 400€ for an e-bike, 600€ for a cargo-bike). The program – 10M€ over 6 years – is such a success that the municipality is struggling to keep up with the demand : +81% between 2016 and 2018.
On October 9th 2019, Ile-de-France Mobilités, the transport authority for Métropole de Grand Paris, voted for the introduction of a "regional" grant of 500€. This 6-month test is a controversial measure as opponents argue that it will slow mayors on long term ones.
Long-term e-bike rental
This grant announce was a surprise, as just one month before, Ile-de-France Mobilités launched its long-term e-bike rental service Véligo, with a fleet of 10 000 e-bikes available for the people of the Métropole. For 40€/month, one can get access to a high-end e-bike, with maintenance included. The service is operated by Fluow – a joint venture of La Poste, Transdev, Vélogikand Cyclez – and available from 250 sales point, including in Décathlon shops.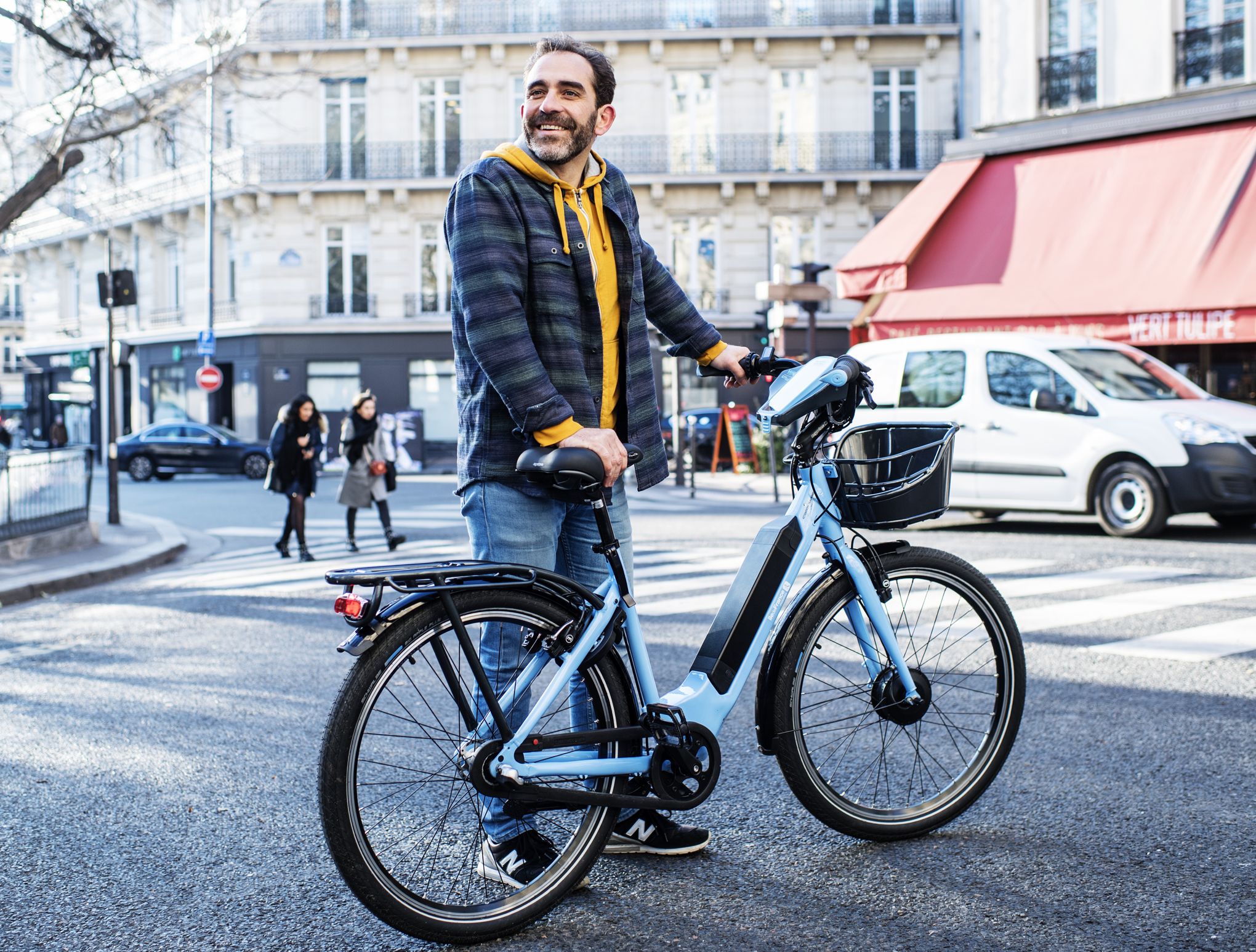 Bike-share
Paris followed suit to Rennes or Lyon and launched the largest public bike-share service in France in 2007, with 10 000 bikes and 1200 stations. Vélib is now part of the Parisian culture and turned into Vélib' Métropole in 2018. The transition from JC Decaux to Smovengo was… difficult, but the situation is back to normal, more than 18 months later, with around 14 000 bikes and 1400 stations. This new contract was a major evolution, as it requires 30% of e-bikes minimum in the fleet. The blue e-Vélib' has been adopted, as its usage rate is above 6 rides/bike/day.
If dockless bike-share operators Gobee, Mobike, ofo, and oBike tried to take advantage from Vélib' difficult transition back in 2018, only Mobike remains today, with a small fleet of around 1200 bikes. The e-bike fleets arrived later : first with local Oribiky and its 350 bikes – the fleet is moving from Paris to Nice this month- then Jump who launched its service back in April this year. With now between 3 and 4 000 bikes and a usage rate around 3,5 rides/bike/day, the service is a strong option for Parisians and tourists.
A political argument
Paris' municipal will to develop active transportation modes is no surprise, as it is a main point of mayor Anne Hidalgo strategy to turn the city green. She made strong and difficult solutions in favor of cycling, such as banning cars from Seine's right banks, or adapting rue de Rivoli. Infrastructure, Vélib', financial incentives, the "Plan Vélo" is happening, and benefits to micromobility in general. It is quite logical to see so many e-scooter operators in the streets, as the infrastructure development addresses a part of the safety issue for its users.
The new thing is the will on the regional level to support active mobility. Its party competing against Anne Hidalgo for the next municipal elections, regional council president Valérie Pécresse cannot fight against Hidalgo's anti-car measures anymore, but have to embrace micromobility breakthrough as well ! The recent launch of Véligo and e-bike purchase grant are weapons in the war to be the Micomobility Queen, a huge argument to become the new mayor.