A takeaway from Autonomy summit 2019
On October 16th and 17th took place in Paris the now well-established urban mobility show: Autonomy & The Urban Mobility Summit. Having chosen to focus on professionals only, the event managed to gather more than 8000 attendees from private companies and public authorities.
While the show encompasses all the areas of urban mobility, from electric cars charging stations to LEVs equipment, I'll try to pick the most important trends in shared micromobility.
A switch back to stations?
The problematic of how to manage shared micromobility services is far to be solved. 2010-15 was the age of docks, 2015-20 is the age of free-floating, but a new era might come, trying to make the best out of both solutions.
On the bike-share side, it was… dock-based only, with locals Cykleo, Ecovélo, Koboo, Smoove, and Zoov – which can be considered as a hybrid solution. No free-floating operator was there, although Jump and Mobike are present in Paris' streets. The lower visibility of bike-share totally reflects the trend in favor of scooters, even if the democratisation of e-bikes should rebalance it.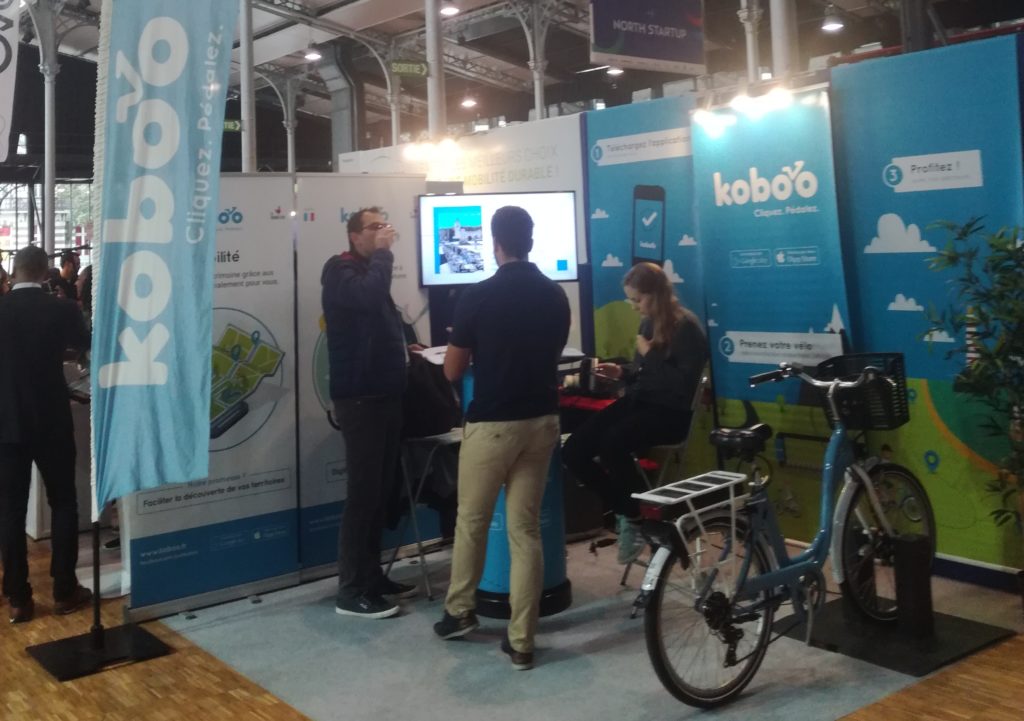 Looking at e-scooter sharing, it was quite amusing to see that there were almost as many station-based solution suppliers – E-Twow, Knot, Samocat, WeTrott' – as free-floating ones – Bird, Dott, Lime, VOI, Wheels – exhibiting their products. The addition of the universal charging/docking station of Istanbul-based Duckt makes the balance almost perfect…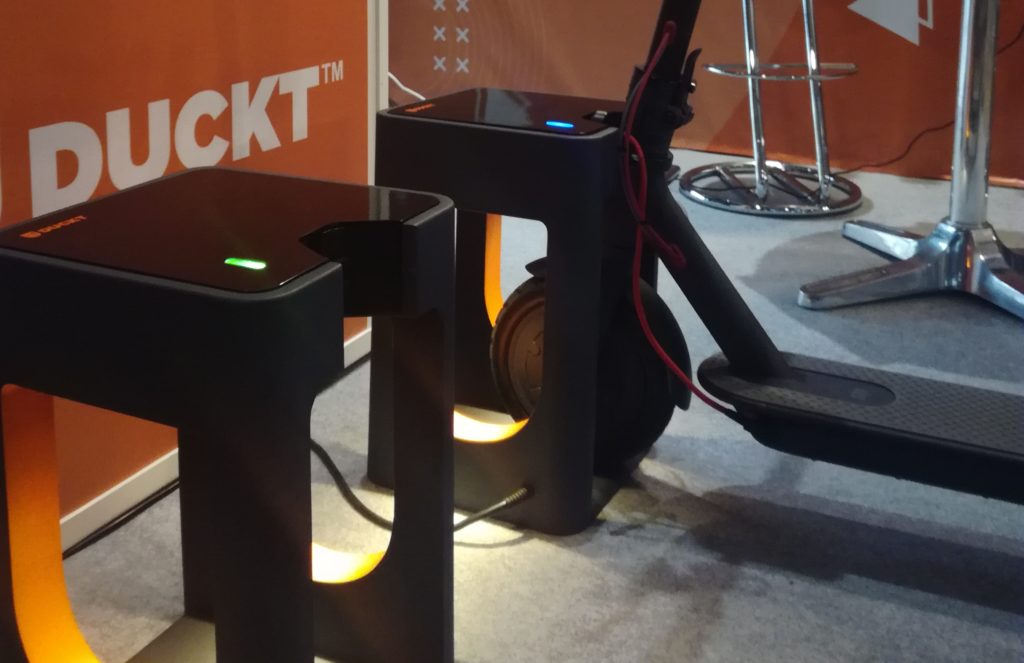 In the race towards profitability, operators are working hard on how to improve charging, parking, and maintenance. It makes sense to gather the vehicles as much as possible to limit the costs, as well as automating charging and diagnosis. The recent hubs implementation in many cities – and operator's apps – is a clue that the future is not for full free-floating.
It seems that authorities now just have to choose between a complete station-based solution (first list above), or an evolution of the existing systems, with universal charging stations, in addition to the use of geofencing solutions for virtual stations.
Stress around Paris' tender
My favorite part of the exhibition was the "Death Corridor", gathering all the free-floating e-scooter operators side by side. You could feel Bird, Dott, Lime, VOI, and Wheels gauging each other, trying to show their competitive advantages.
Dott on one side

Bird, Lime, Voi on the other
With what is at stake with the coming tender of Ville de Paris – that will only keep 3 of them alive – the show was a milestone in their communication strategy, and it was no surprise to see the round tables focusing on the tender, and resulting in a start-up pitch contest.
Light e-mopeds, the new form factor?
The 2019 edition saw the emergence of a new vehicle form factor for shared mobility service, what I will call "light e-mopeds" (I am still thinking about a better expression, and will welcome any advice !). The US operator Wheels was celebrating there its recent fundraise of US$ 50M, while Bird was showcasing its Cruiser for the first time in Europe. Wheels did communicate a lot around a coming launch in one EU country (should happen in November according to EMEA GM Axel Lindner); and I believe we are far from seeing a Bird Cruiser in EU as it just hit the streets in the US.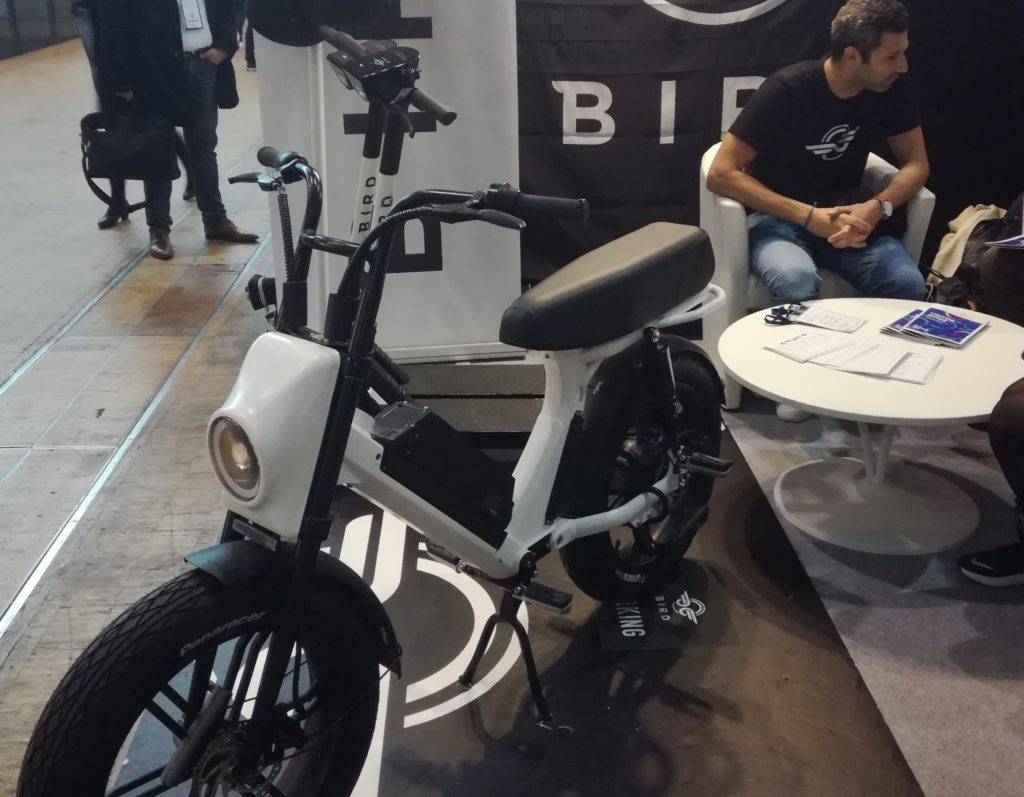 If the form factor itself is interesting to convince a larger range of users to switch to micromobility, the main challenge will come with local legislation. In most EU countries, those vehicles will be considered as "mopeds", and therefore require a license plate, a full set of accessories (mirror, powerful lightning), helmet use and insurance. Wheels admitted that they won't be able to launch in France soon for example, and will focus on countries with lighter rules.