Moped-sharing: the Dutch connection
In this new article of the fluctuo series, we explore the market of shared mopeds in the Netherlands. An insightful dive away from "my" micromobility world that also provides lessons for the future of shared micromobility in the country.
The Netherlands is very unique when it comes to transport culture; in Amsterdam for example, cycling represents 35% of total trips versus just 19% for cars. This peculiarity is also visible in the shared mobility landscape, with a unique dynamic created by authorities, operators and riders.
The country is home to the most vibrant moped-sharing market in Europe, with 3 important national operators serving more than 20 cities across the country. The legacy of cycling culture (good infrastructure, low car traffic), together with political choices, have led to this fast development which is still in its early ages.
Are you "snoring" or "vrooming" ?
As in many Northern European countries, mopeds in the Netherlands are divided by law into 2 categories. Type 1, or snorfiets (snoring bicycles) are allowed in cycle lanes thanks to their 25 km/h speed limit, and riders do not have to wear a helmet. Type 2, or bromfiets ("vrooming" bicycles) have a 45 km/h speed limit, meaning that riders have to wear a helmet, and are only allowed in moped lanes and on main roads. Both categories require a license plate, insurance, and a driving license (meaning that riders have to be at least 16 years old).
The additional freedom given to Type 1 mopeds addresses a wider range of mobility needs, and helps convince riders that would not otherwise bother to rent a moped. Some may not want to wear a helmet (be it for hygiene or comfort reasons), others may not feel confident enough to ride on the road in the middle of traffic.
Yet, the ability to ride a snorfiet without wearing a helmet is expected to end in 2022, as the Dutch government recently announced.
Amsterdam has already adopted stricter rules for snorfiets. Unlike in other parts of the country, helmets are already mandatory and accessing bicycle lanes is forbidden in most parts of the capital. It makes snorfiets an obsolete vehicle in the city, and with the national government now willing to adopt mandatory helmets as well, this could have a significant impact on the ridership ratio of snorfiet.
The Dutch government has also chosen to adopt restrictive rules for shared e-scooters. Each vehicle has to be approved by RDW, the Dutch type-approval authority. Only one vehicle with bicycle-sized wheels has been approved for shared use so far, currently operated by Citysteps in Roermond and Waalwijk. Shared snorfiets are therefore becoming the best alternative for people seeking to ride effortlessly.
An urban territory shaped by a unique cycling culture
As a legacy from the Dutch post-World War II cycling culture, the Netherlands' cycle lane network is the densest in the world. Apart from offering a safe way to ride snorfiets, it also means that the whole infrastructure is made to accommodate each type of vehicle safely. The Netherlands is a rare country where you can ride on a moped lane!
The Netherlands is also the most densely populated country in Europe with 506 inh./km². It is also one of the most urbanised, with 91% of its 17.4M inhabitants living in cities. It means that with a high density of cities on a rather small territory, shared mopeds offer a unique opportunity to address a mobility need which is often out of scope: linking cities.
For example, Rotterdam (623,000 inh.) is 25km away from The Hague (1,052,000 inh.), a 45-minute ride on a bromfiets. Moped operators felyx and GO Sharing are taking advantage of this proximity, enabling riders to connect different operational zones within one national area for no additional cost.
3 national champions
The Dutch shared mopeds market is divided between 3 main operators.
felyx was among the global pioneers. It launched its first service in Amsterdam in 2017 with around 100 mopeds. It is now present in 8 Dutch cities (with 2,800 vehicles) and in Brussels. felyx raised €24M in February to fund its European expansion and will soon launch in 3 German cities.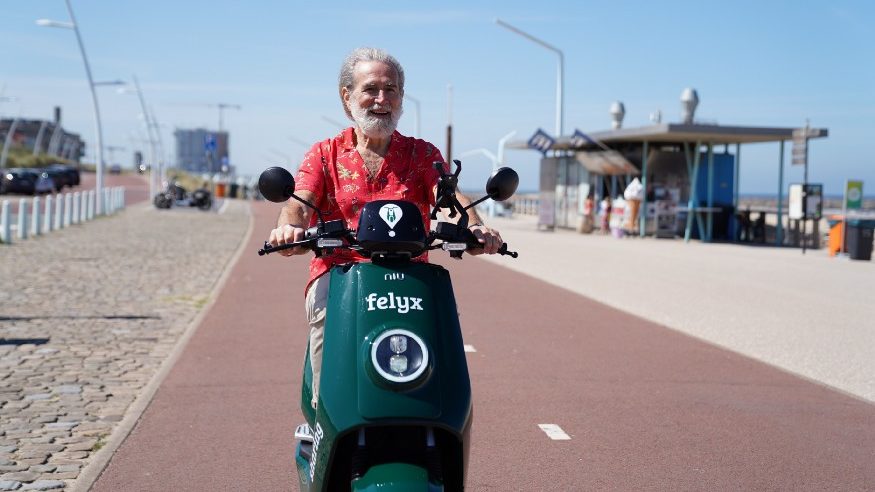 Founded in 2019, GO Sharing launched its first service in Eindhoven before expanding to 29 Dutch municipalities with a total fleet of 4,200 vehicles. The company managed to raise $60M last April to enter new markets abroad and to expand its range of services to shared cars and e-bikes. Since its fundraising, GO Sharing has already launched in Vienna, Antwerp and more recently in Saarbrücken and Düsseldorf. More launches are planned in the coming weeks.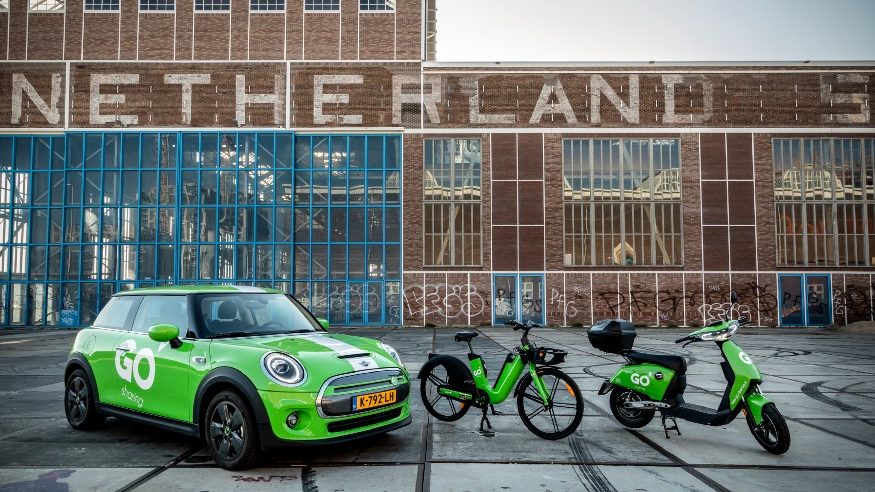 Finally, Rotterdam-based Check, which launched its first service in Rotterdam one week before COVID hit Europe in March 2020, is now operating in the 3 main Dutch cities (Rotterdam, Amsterdam, The Hague) and Breda, with a total fleet of 1,700 vehicles.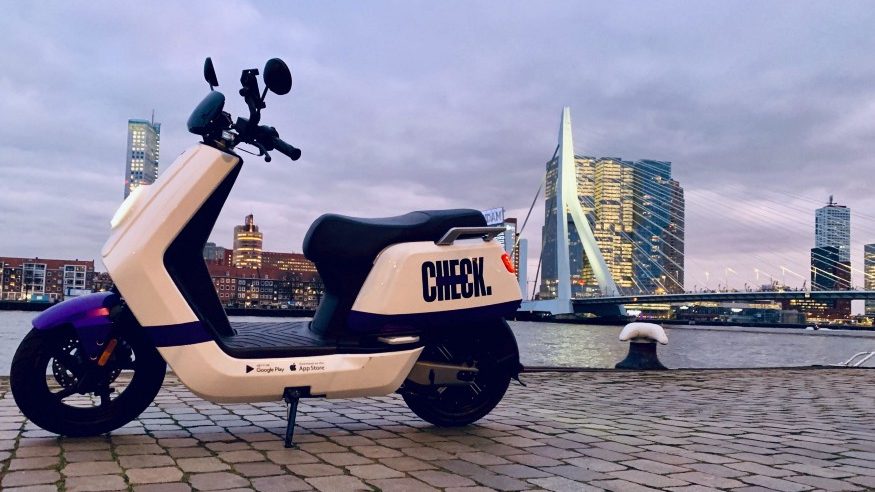 The Netherlands therefore hosts a fleet of more than 8,000 shared mopeds according to the industry expert Enrico Howe (mopedsharing.com), who believes that "looking at the potential in the country, the fleet could exceed 10,000 by the end of 2021".
The split between snorfiets and bromfiets can vary greatly from one operator to another and from city to city. According to Kasper Zwetsloot, COO at felyx "In all our cities, we intend to collaborate proactively with municipalities in order to balance the right mix of speed levels within our fleet. Generally speaking, we see that a mix can be really successful as we are able to accommodate multiple use cases for the consumer. We believe this brings us closer to our goal of fighting against car rides".
Another sign of the market's maturity is the use of tenders to select operators, an important way for cities to control the quality of service and match it with local transport needs. Felyx and Check have adapted successfully to this process, both being awarded the right to operate in Amsterdam and Groningen. "We made the choice to develop our solution in-house, which allows us to respond more efficiently to local authorities' needs. We believe it is why we won those tenders", says Paul van Merrienboer, Check's managing director.
Are Belgium, Denmark or Germany similar gold mines for moped-sharing services? Well, despite a lot of similarities in legislation (Type 1 and Type 2 mopeds), and in the development of 2-wheeler infrastructure, the Netherlands appears to be an isolated case. The unusual choice to ban shared scooters from the country has worked in favour of mopeds.
But as Paul van Merrienboer believes, "it is just a matter of time before scooters are allowed on Dutch streets". It will surely change the dynamics of the shared mobility market and force current moped operators to adapt. It is therefore no surprise to see Check, felyx and GO Sharing betting on a European expansion, with a clear focus on… Belgium and Germany.
By Alexandre Gauquelin (Shared Micromobility) and Julien Chamussy (fluctuo)