Why docks are part of the future of micromobility
Two of the main drawbacks of dockless shared e-scooters are public space use, and the operators business model non-profitability. An answer to both is the introduction of docks and the evolution of the technical solution toward a mix of dockless and dock-based.
While free-floating might be a sustainable solution for very dense areas, docks are a good complementary solution to provide micromobility options to suburbs or less populated zones, by lowering the maintenance and balancing needs.
The docking options are developing fast, and I thought it would be interesting to gather the options, that could allow micromobility to spread outside of city-centers… and operators to make money 😉
Docking stations for dockless scooters
The first option is to complete the free-floating offer by adding stations that will allow parking and charging. The advantage is to have a multi-operator solution, while the main drawback is that the charge is not automated and the scooters are not securized.
Switmile's dock is made of a stand that maintains the steering, a rail to put the wheel in position, and a charging cable to plug the scooter. It is the most commercially developed solution, as Swiftmile already signed a partnership with Spin, for a 60-day pilot to test stations impact this summer both in Washington, DC (40 stations) and Ann Arbor, MI (10 stations). Swiftmile also provides the docking solution for Jelbi, the MaaS service of Berlin, that builds e-mobility hubs.
If the solar-powered feature is highlighted, it seems to be still under development as all photos are showing what looks like a converter box, and no solar panels.
Charge is another American solution. If the hardware is quite similar (except from the rails), the business model is quite different here as Charge is working mainly to install its stations on private land and car-parks (deal signed with LAZ for example). It recently announced a launch with 250 stations in Atlanta, but it still has to be secured.
In addition, let's remind that :
Jump by Uber has developed such docks for e-bikes, so it wouldn't be a surprise to see similar furniture for scooters
Complete dock-based solutions
The other option is to offer a complete sharing solution with stations PLUS e-scooters. Pros and cons are the opposite: single operator, but charge and securization are automated.
Knot is a French company which started with non-motorized scooters. Their stations are hosting the folding scooters standing, and the company is now working to integrate e-scooters. Pilots are in operation in Saint-Denis and Strasbourg.
Kuhmute is the result of a student's project that went live. The solution is using ACTON scooters, on which a connection device is attached in order to fix and charge the scooter in a bar-design station. The company is supported by the city of Flint, MI, where it should launch 40 scooters with stations in the coming 3 months.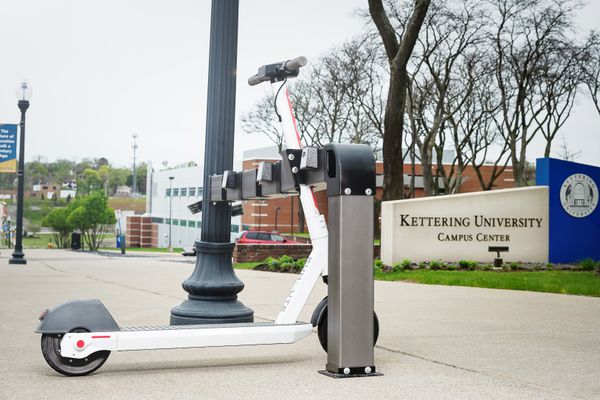 Neuron Mobility is a Singapore-based company, which first launched is the city-state in 2018. It implemented charging stations from the beginning, but seems to have dropped the solution, as its new in-house designed e-scooters are not equipped with connection devices. I did not find a lot of information about Neuron's strategy, so if anyone knows more about it…
Initial solution…

vs new freefloating one
Samocat is a Russian competitor. Technically, the solution is only a locking solution, as there is no charging system yet, in which the folding scooters are parked standing. The e-scooters are Segway's. The is the evolution of the initial non-motorized scooter version, in operation since 2015. The hybrid solution is in operation in Helsinki's suburb, while the classic one is in Moscow's streets since 2018, and should increase this summer from 35 stations to 100.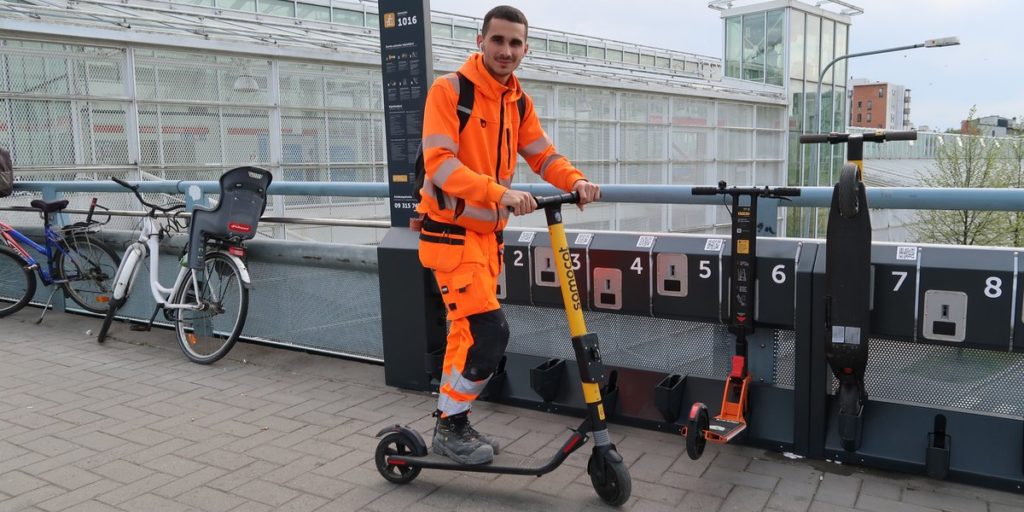 Last but not least, WeTrott', another French startup, developed an in-house design where 15 e-scooters can be locked and charged when slid at the bottom of the rails, making it the densest solution. It also the only solution that provides helmets for each user, thanks to lockers on the side! After some pilots in collaboration with SNCF and Indigo, WeTrott' is currently installing 52 stations in Paris – La Défense, Europe's biggest business centre, where it should launch this summer.
If the implementation process complicates the station's installation, in front of the easy public space access for free-floating services (for now, as legislation is getting stricter), the social and business model benefits coming from station-based or hybrid solutions are too important not to be explored. Spin/Switfmile partnership (and the coming ones) shows that all parties seem to agree!
Disclaimer – To remain transparent, I am collaborating with WeTrott. All the expressed opinions are my own.