Time to spend? Here are some shared micromobility resources *collaborative article*
Updated April 17th
For (some) of us, locked down in any country around the globe because of the COVID-19 pandemic, short-time working or simply home-office means that we have a little more free time (if you don't have children, sorry).
For shared mobility and micromobility nerds, it is an opportunity to get, analyse and store information from many different media. Here is my first selection that I will update with your inputs from comments, tweets or emails.
COVID-19 related
For those not fed up with COVID-19 news, here is a list of resources to catch up with its impact on shared micromobility services.
Augustin Friedel set up a collaborative Google Sheets file to gather all actions undertaken by shared mobility operators during the COVID-19 crisis: service closure, pricing changes, business model changes…
Movmi launched a COVID-19 taskforce "for any shared mobility providers who may require assistance during these trying times". If you are facing any issue the dream-team is able to support companies on technology & operations, policy and government relationships, as well as legal and insurance topics. A mine of knowledge to exploit.
WeAllMove is a website by Wunder Mobility aiming to gather all shared mobility services that remain available during the crisis. Not exhaustive but interestingly, a lot of "small operators" are present!
The North America Bike-Share Association is gathering data from cities across the continent to monitor the impact of COVID-19 on shared micromobility services. Ratio of services opened, offering free/discounted pricing or additional services… A complete datasheet.
Across the Atlantic, CoMoUK set up a web page to gather all the actions implemented by shared mobility operators across the country. The largest part is for bike-share! Nice.
Regular Webinars
The ultimate interactive media in my opinion. You are able to ask specific questions to specialists, hear from stakeholders experiences… Tech, social, economical topics, you'll find one that suits your daily mood.
Ride Report started its Micromobility fireside chats on march 18th, and is a great weekly event. You will get information about COVID-19 impact on micromobility, shared services operation, or MDS from well-made panels gathering experts from the private and public sector.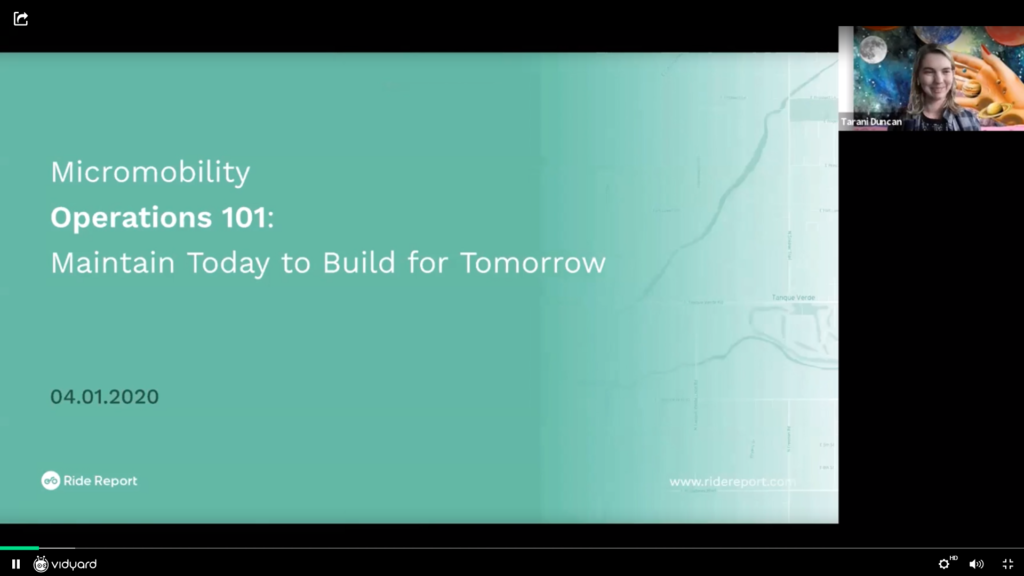 Micromobility Industry's "Triple M" membership gives you access to a weekly webinar, largely focused on industry's development more than tech. During the lockdown, you get a one-month free trial, a good occasion to dig in the rich collection of talks and attend the coming ones: How micromobility makes itself essential, or Why the end days of car ownership may already be here.
Videos and webinars
Professional shows and meetings are getting cancelled one after the other. But you can still watch conferences, round tables and webinars from your couch!
Micromobility Industry's YouTube channel offers videos of each talk from the conference in Berlin (October 2019). A great way to catch up if you couldn't make it at this time. My selection: Superpedestrian or how to improve scooters lifespan, Donkey Republic or why a mechanical bike is still the best vehicle, and Robotics for Micromobility.
Mobility Makers organised their first Remote mobility talk with Lime's CEO Joe Kraus on April 1st. More please (I'm waiting for Joe's interview after the lockdown to see the strategy evolution)! Mobility Makers also tries to gather the upcoming webinars on their calendar; you can register yours here.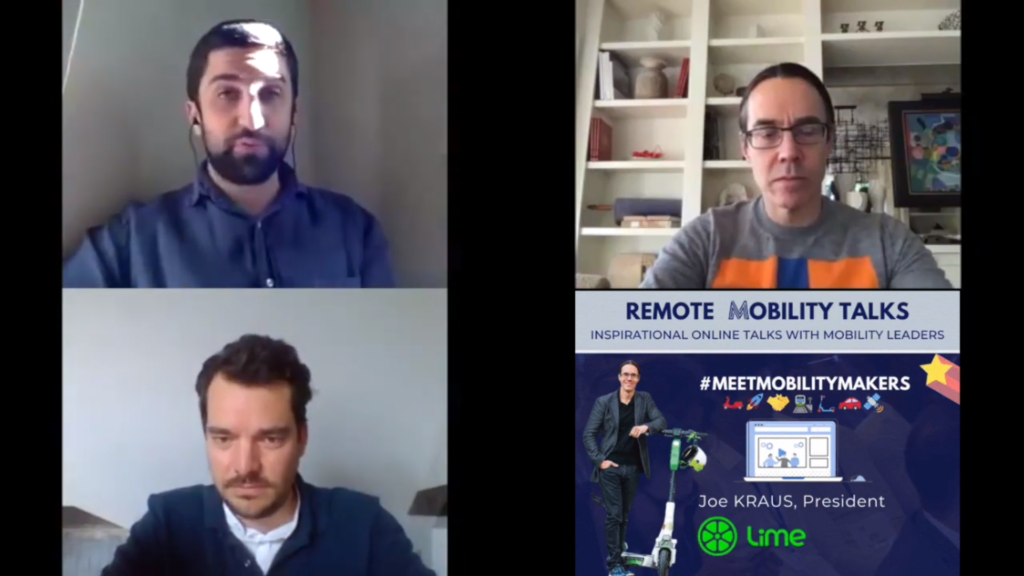 NABSA also organise its "COVID-19" webinar called "Pandemic – Navigating our response" on April 9th, gathering a balanced panel of operators (Bird, Jump, Lyft, Bicycle Transit Systems) and cities officials (Philadelphia, Houston) to talk about the current consequences on the services operation and usage.
Looking for technical stuff? Taoglas, an IoT provider, hold a webinar on High Precision GNSS and RTK Positioning technologies. A technology used by Luna in its IoT module for shared scooters and bikes under development, that could change the way to operate and monitor shared micromobility services.
Podcasts
CoMotion offers different valuable resources on wider mobility topics. A few interesting webinars, some videos, but most of all an impressive list of podcasts. Many, if not dedicated to micromobility, are dealing with some of its problematics, technologies…
Micromobility Industries, once again, has a rich podcasts record. From technological topics to societal ones, the team covers all the hot topics.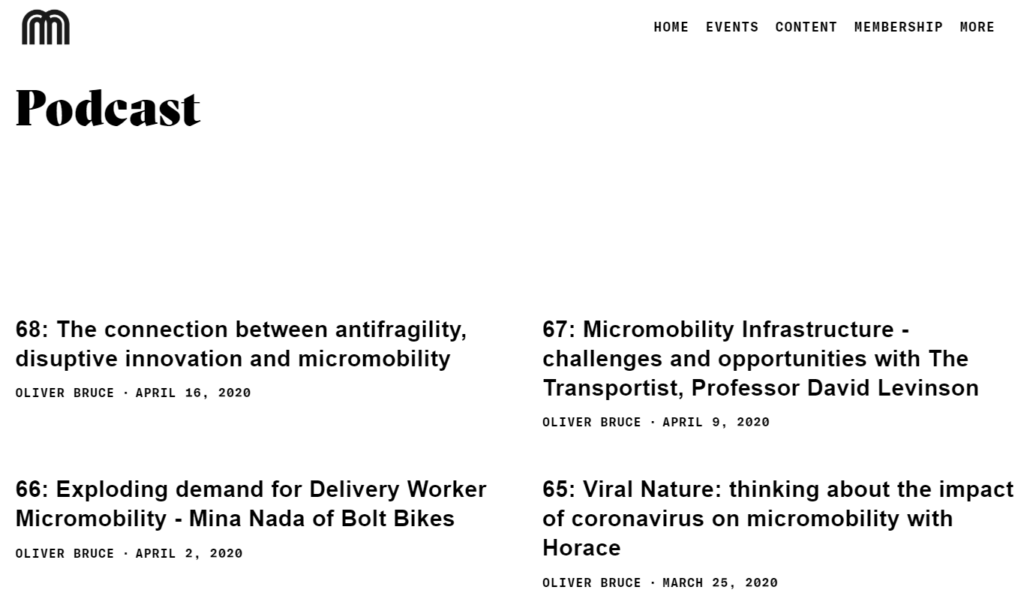 Resources libraries
Some national and international organisation are offering access to great libraries about shared micromobility. You can dig in the following list of acronyms:
Waiting for your contribution!