Lyft vs Uber: the bike-share battle
It is no secret that Uber and Lyft are fighting at the door of the Wall-Street. But it is not the only battlefield. As both are putting emphasis on the development of their micromobility services, there is now no low blow for the win.
The Chicago battle
Chicago is the place of a major fight: on April 10th, the City Council approved a nine years contract with Lyft (who already operates the system after the acquisition of Motivate). By investing US$50M (and paying US$77M over 9 years) in new bikes and stations, Lyft did get the exclusivity on bike-share in Illinois' capital. The deal also includes a long list of requirements.
As soon as rumours of the contract emerged, Uber started its lobbying campaign, to break the exclusivity attached to Lyft's contract. They even launched a "Pump the Brakes" campaign, calling for citizens to put pressure on their alderman against it. Uber also put on the table an irrealistic offer of US$ 450M, including the launch of 20 000 e-bikes plus 20 000 e-scooters in all 50 wards… By May 2019! Considering that delivering that many vehicles and putting together a trained team in such a short time is impossible, one can figure it was another strategy to delegitimize Lyft offer.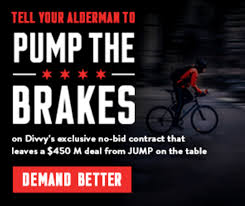 The e-bike battle
In the second half of 2018, Lyft launched hundreds of e-bikes in its fleet in NYC, Washington DC and San Francisco. The success was huge and the City Council announced that the e-fleets were supposed to largely grow in 2019. The e-bikes have been adapted from regular ones, by integrating a motorisation kit (front wheel motor, removable battery and electronics). But on April 12th, Lyft decided to withdraw all e-bikes from the streets after several injuries due to a front brake issue were reported! Lyft is now working both on solving the problem and on developing a new e-bike version.
Uber vs…

… Lyft
Uber did not wait long before trying to get advantage of the news:

Uber, which operates a popular electric-bike-share service known as JUMP, said the brakes on its JUMP bikes were modified more than a year ago to smooth out the brake response and make the process more gradual.
As stated in the article, Uber refused to specifiy how they identified the problem, and how and when they solved it. Believe what I say.
It is interesting to note that communication is now directly managed by Uber and Lyft, and not by Jump and Motivate. That highlights, along the the methods used, the importance of the fight for micromobility.