🚲 share + 🍲 delivery = 💖
Shared mobility and food delivery services have developed at high speed in the last decade. In a metropolis where a bike-share service is efficient and affordable, it represents an interesting transportation option for these insecure workers. The massive addition of e-bikes to the fleets have strengthened the trend, allowing better productivity for the workers.
Issues…
The problematic of massive usage of public shared bikes was first highlighted in Madrid in 2018, where the publicly owned and operated bike-share service BiciMad offers 2,000 e-bikes across 215 stations. Glovo's and Deliveroo's delivery workers are taking advantage of the first large scale full-electric bike-share service.
A similar situation came to the headlines in 2020 in Paris. The massive introduction of e-bikes in the Vélib' service since 2018, which now represents a third of the ~18,000 bikes turned the historical service into a fast, convenient, and cheap option for delivery workers. According to the operator Smovengo: "up to 15% of the usage is related to food delivery during peak hours (6 pm to 8 pm)". But CLAP (Collective of Autonomous Delivery workers of Paris) argue that only hundreds of riders are using the service for commercial purposes, making it impossible to represent 27,000 daily rides (15% of the average ridership in September).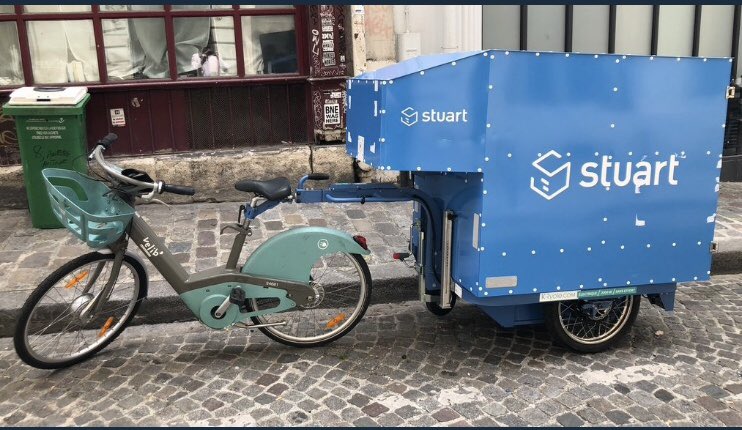 In both cases, operators recall that the bike-share services terms of use state that regular usage for commercial purposes is forbidden. Smovengo updated it in July 2020 to introduce an automatic "3 to 5 minutes delay" before taking the same bike, to prevent privatization… that will not have a big impact.
… should lead to innovation
The answers from both the Spanish and French capitals have been… nonexistent. Operators just called on their terms of use to (poorly) fight against usage for deliveries. Smovengo even launched a specific subscription model for businesses that simply forget to address the needs of independent workers that they were pointed at a couple of months earlier!
You have to cross the Atlantic to find the first accomplished innovation gathering bike-share and food delivery. Tembici, which successfully operates most of Latin America dock-based bike-share services (Sao Paulo, Rio de Janeiro, Salvador BRA / Buenos Aires ARG / Santiago CHI…) partnered with the Brazilian food delivery company iFood to open iFood Pedal in Sao Paulo.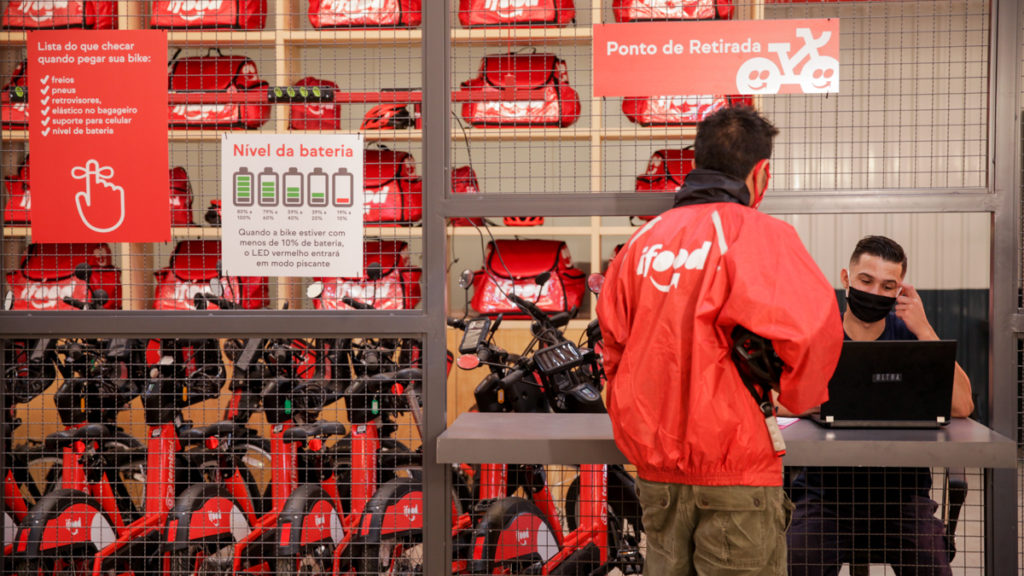 For just 1.80€/week, delivery workers have access to the local mechanical bike-share system, and to a dedicated fleet that should reach 500 e-bikes by the end of 2020! Already impressive? Yes, but it also comes with additional services such as an online education course "designed to improve people's safety and well-being" and provided by the NGO Pedal Responsa or the access to the iFood Pedal Support Point to check-in/return e-bikes, eat, rest, and have access to masks, alcohol gel, helmets, and bags.
👏 Bravo !
That really is a visionary move by Tembici and iFood that will surely make more around the globe! Imagine a network of such "support points" across all major cities. It is benefits for all:
food delivery companies will create workers' loyalty with additional services and meet cities' sustainability goals by acting in favor of bike usage.
With a fleet dedicated to deliveries, bike-share operators will be able to maintain their public service availability, while answering better an additional usage (cargo-bikes/improved lights/specific racks?)
Delivery workers would be able to use a bike designed for their usage while taking advantage of additional services that will make their job enjoyable.